Since the 1960s, everybody thought that vinyl windows (polyvinyl chloride) would be around forever. Then, plastic gets into the picture. It was the better alternative that needed little to no maintenance. No scraping and no painting is required.
Indeed, vinyl is still widely used for its cheap price tag. However, more and more people are switching to a smarter alternative like the Andersen 100 series.
Anderson 100 Series Windows: The Better Option
Here are the reasons why Anderson 100 series windows are better than vinyl.
What are the benefits of choosing Andersen 100 Series windows? (Image Source: Freshome)
The Fibrex Material
Andersen's patented PVC-wood composite material called Fibrex is the biggest advantage of their windows over vinyl. In terms of weight, Fibrex is made up of 60% polyvinylchloride and 40% recycled Ponderosa pine wood fibers.
This technology was initially developed by reusing sawdust obtained from wood windows. One of the most common problems in wood windows is rot. But since Fibrex windows use wood fibers and coated with PVC, the material is far more resilient against rot than pure wood.
Throughout the development of Fibrex, Andersen looked into fiberglass-like material that could be extruded (to thrust soft material to a shaping filter) or injection molded. Fiberglass doesn't allow this process, which resulted in simpler shapes and lines.
Now Fibrex is twice as strong as vinyl, which means it can last longer. Weathertight seals will stay weathertight for years. It maintains durability and rigidity in all types of weather conditions. Also, the unique fabrication process allows them to make and blend beautiful and long-lasting colors.
Fibrex can also block thermal transfer 700 times better than aluminum. This reduces the need for expensive cooling and heating bills.
Aesthetics and Craftsmanship
The durable and factory-finished interior and exteriors of Fibrex features a premium matte finish. Unlike vinyl that is often shiny, matte will not fade, blister, flake, or peel. Also, the matte finish is 12 times thicker than most painted vinyl windows.
This makes it more resilient to scratches, keeping your windows beautiful for a longer time. These windows feature virtually seamless corners, for a cleaner and modern aesthetic appeal.
Heat Distortion
One of the biggest problems with vinyl windows, especially the dark-colored ones is bowing, sagging, and heat deflection. Windows are almost always subjected to high heat. Andersen's Fibrex material, on the other hand, can stand up against high temperatures better.
It exists with a threshold of 173 ̊ F, way higher than vinyl's 163 ̊ F threshold). Though the former has a 10 ̊ higher threshold than the latter, both materials are below the starting distortion point, which is at 180˚ F.
Insulating Properties
Because of its materials, Fibrex has better insulating capabilities than aluminum windows. With a thermal conductivity of 0.60, aluminum can get hot easily. Fibrex, on the other hand, has a thermal conductivity rating of 0.15.
Thermal Expansion
The pinewood fibers' low thermal expansion rate (1.6) will keep your windows from expanding too much at high temperatures. Vinyl, on the other hand, expands twice as much (4.0).
Compressive Strength and Performance
When it comes to compressive strength, Andersen 100 series windows are two times stronger than their vinyl counterparts. However, this difference doesn't mean you will have a stronger window.
Thus, it will give you more options as you can opt for a slimmer frame to get more glazing (more natural light for your home). Fibrex will also remain stable and rigid, and will not warp from too much sun exposure.
Transferable Limited Warranty
Most warranties for windows and door frames are ended when the home is sold. This is not the case with Andersen 100 series windows, as the coverage is transferable to the next homeowner. They provide 20 years warranty for the glass and 10 years for the non-glass parts.
Searching for the Ideal Windows for Your Home?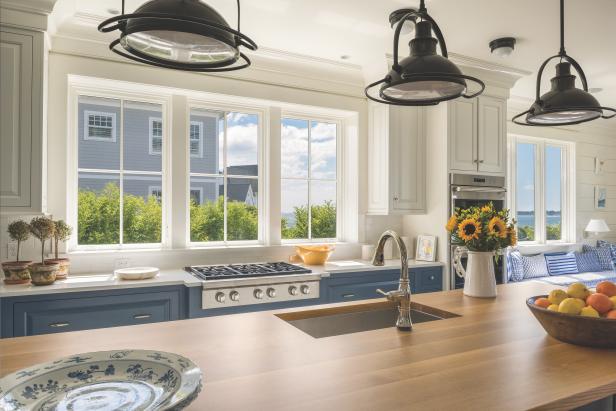 Transform Your Home with Andersen 100 Series Windows. (Image Source: HGTV)
At K and G Solutions, we specialize in windows installation and treatments for your home. Our goal is to add efficiency and aesthetic value to your home with the right type of windows. We stock a wide range of high-quality window types such as the Andersen 100 Series Windows. We can also install different types of windows to suit your home style. You can learn more about your options here.