Your home is your biggest investment so it is only natural to want to protect it. A house fire is one of those incidents that can devastate your home and your possessions. Choosing the right materials can make your home less prone to fire.
One of those materials that you have to put a lot of consideration into is the siding material for your home which is a hardboard. But what other siding materials are known to be fire-resistant that you might want to consider?
Best Fire Resistant Siding Material for Your Home
Tips for choosing a fire-resistant siding. (Image Source: Siding Estimator)
Investing in less combustible materials can give you peace of mind knowing that your home is protected from fire. Take a look at some of the best products out there that would be ideal for your home's exterior walls.
Steel
This is one of the best choices of siding material when you are looking for ones with fire-resistant qualities. Aside from being fire resistant, steel siding is also durable.
It is highly resistant to damage and has a long lifespan. If you cannot find steel siding, another option for metal sheeting siding material is aluminum.
Brick and Stone
The use of brick and stone siding material over wooden frames is going to reduce the risk of house fires. Brick is a naturally fire-resistant material so it helps a lot.
It also keeps the fire away from the inner cavity of your home's walls. But since brick is quite expensive, other stone siding material would make a great alternative.
Stucco
As a material with high resistance against fire, Stucco will help slow down the rate at which fire can destroy your home. Stucco siding has a one-hour fire rating.
It means you have at least one hour to contain the fire. You can keep the fire from spreading onto the other parts of your home (particularly the interior walls).
Fire Resistant House Siding Material Hardboard
Known as one of the best siding materials for your home, it is made up of 90 percent sand and cement that makes it able to resist fire. It is also a material known for its longevity.
Moreover, this can last for 50 years with proper care and maintenance. And aside from fire, hardboard is also a great choice of siding material for the home as it is resilient against storm and extreme weather conditions.
Looking for Fire Resistant House Siding Material Hardboard?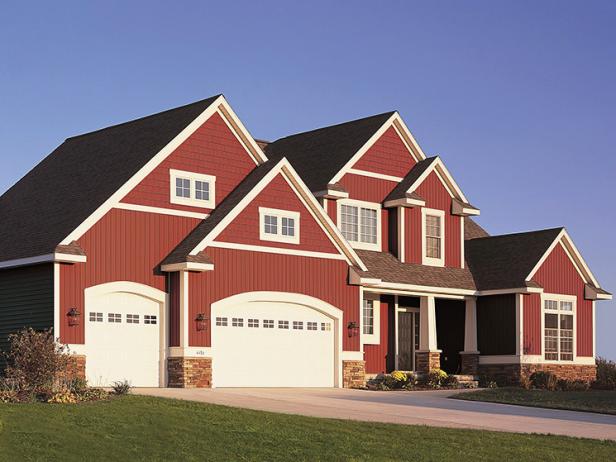 Which siding material is fire-resistant? (Image Source: HGTV)
The importance of choosing the right siding material for your home cannot be over-emphasized. But aside from choosing the right siding material, you should also hire a contractor that can install them with efficiency and quality.
At K&G Solutions, we specialize in our siding solutions and we take pride in the work we do. Other specialty services include Kg windows and doors. If you want to protect your home and family, get in touch with us and request a quote.
You may visit us at 12412 York Street, Thornton, Colorado from Mondays to Fridays from 9 AM to 8 PM. We are also open on Sundays. For questions or appointments, call us at (720) 883-1267.